The 2021 Subaru Love Promise Customer Commitment Award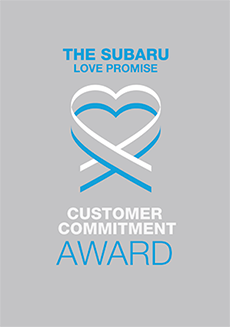 We've been nationally recognized for our dedication to our customers and the Subaru Love Promise.
We're honored to receive the 2021 Subaru Love Promise Customer Commitment Award. This award nationally recognizes Subaru retailers who demonstrate excellence in all areas of customer-focused performance. It highlights exceptional customer service that builds lifelong relationships with Subaru owners.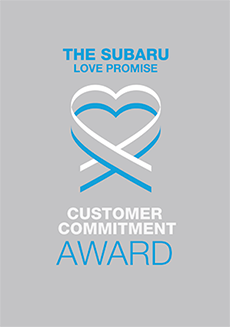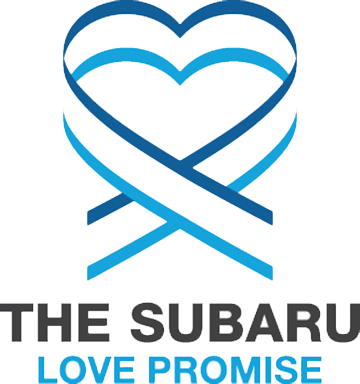 What is the Subaru Love Promise?
Subaru and our retailers believe in making the world a better place and the Subaru Love Promise is our vision of respecting all people. This is our commitment to show love and respect to our customers and to work to make a positive impact in the world.
How is North Reading Subaru dedicated locally to the Love Promise?
Our Love Promise can be seen in various partnerships with local charities and non-profits. We're grateful for the opportunity, not only to be a part of our community, but to serve it as well.
Love Promise Stories from North Reading Subaru
Subaru and North Reading Subaru believe in making a positive impact on the communities in which we live and work. We uphold that belief through our Love Promise Community Commitment. Every month, we select inspiring stories from customers and partners from around our area who strive to support our collective commitment and feature them here
Gramps says thank you to Subaru! - Julia P
Gramps came to the MSPCA at Nevins Farm this fall when he was found on our property; tied to our pig barn by his leash. We don't know all of his backstory, but we do know that he got a new lease on life thanks to help from friends like ours at North Reading Subaru. The MSPCA at Nevins Farm is an independent organization that receives no state, federal or local dollars. As such, it's help from friends like North Reading Subaru that make our work possible. Work that allows us to help Gramps get started anew. Since Gramps was abandoned on our property, we can only guess how old he is. We initially guessed 8, but that was probably before we looked inside his mouth - and found that he was in dire need of extensive help with a very painful set of teeth. We blocked off A LOT of time on our veterinary team's surgical schedule and planned for a big day for Gramps. And a big day it was; he underwent an extremely long surgery in which all of his teeth were removed; they were that far gone and Gramps was in a lot of pain. We supported him through his recovery (which included a lot of hand feeding, a lot of special food "requests" for every kind of delicious, soft food available), got him feeling fine again and then found him a wonderful couple to love him to the moon and back. We were only able to do this, though, because we have support from our local community - which North Reading Subaru has been a big part of for many years now. We are incredibly glad to be able to go the extra mile - with your help - for dogs like Gramps; thank you from the bottom of all our hearts!
---
Massachusetts ALS Association - David B
In June of 2013 North Reading Subaru lost their owner after a long hard battle with ALS. Ever since they have partnered with the Massachusetts ALS association as part of the Subaru share the love program. Since then North Reading Subaru has raised over 50 thousand dollars toward the battle against ALS. Thank you so much for you donations North Reading Subaru we look forward to any work we do together in the future.
---
MSPCA @ Nevins Farm - Julia P
Over the years North Reading Subaru has done several events the MSPCA at Nevins Farm. Our relationship started several years ago when we first did a charity car wash at the dealership together. We brought a few of our shelter pups over that were available for adoption and they had a full car wash set up with a suggested donation of $10 dollars along with a cookout and a raffle for any customers who participated. On top of that they also had giving $200 for each new car that was sold that day to our shelter. At the end of the day we had raised over three thousand dollars for our shelter. It was a great event!! The following year they sponsored our Tales and Ales event which is one of our biggest fundraisers we do all year. We have beer tastings and food from local vendors and a few members of the North Reading Subaru staff even came and brought there dogs. At that event the general manager David Melkonian and his wife were introduced to a Yorkshire Terrier we had at the shelter. A few weeks later that same pup was in their home. A year and a half later and he's doing great! Another great success story for our shelter. In 2019 North Reading Subaru collected various toys, puzzles, treats and food for our shelter. We are so grateful for everything North Reading Subaru has done with us and can't wait to see what the future brings!
---
Nobska Point Lighthouse - Donna M
On a beautiful Sunday afternoon in late July, I spontaneously drove to the Nobska Point Lighthouse at the Woods Hole Harbor entrance in Cape Cod. The present lighthouse has both a wooden innkeepers house and a 40 foot cast iron tower, with a fourth order Fresnel lens built in 1876. The Nobska Point Lighthouse became automated in 1985. Before driving to the lighthouse, I checked the weather, got directions from my smartphone and gathered my camera gear such as camera body, 50mm lens, wide angle lens (17 – 35mm), and a flash unit if needed. The trip was almost 2 hours from home. I can do this. I connected my smartphone to my car via Bluetooth. I listened to classical guitar music by Ana Vidovic on Itunes while being guided by Google Maps. I drove through Falmouth, made a left turn onto Church Street, a winding road with a deep blue shoreline accented with small boats to the right, and beautiful homes to the left. Finally, the lighthouse emerged to my left, sitting on a rolling hill.The bright blue sky accented with white clouds served as the perfect background for a bright white cast iron tower. The flagpole has three flags are waving in a gentle breeze. Let's get to work I thought to myself. My goal was to capture both the innkeeper's house and the tower. Therefore I selected the wide-angle lens over the 50mm lens. I took a deep breath, adjusted the ISO, Fstops, and white balance on my camera. The photo-shoot ended 15 minutes later with 14 images. I packed my gear and drove home with a smile. When I arrive home, I downloaded and edited the images in PhotoShop on my computer. I plan to return in both fall and winter for additional photo-shoots. I know the lighting conditions will be very different than in mid-summer. I can't wait for the next photo adventure.
---